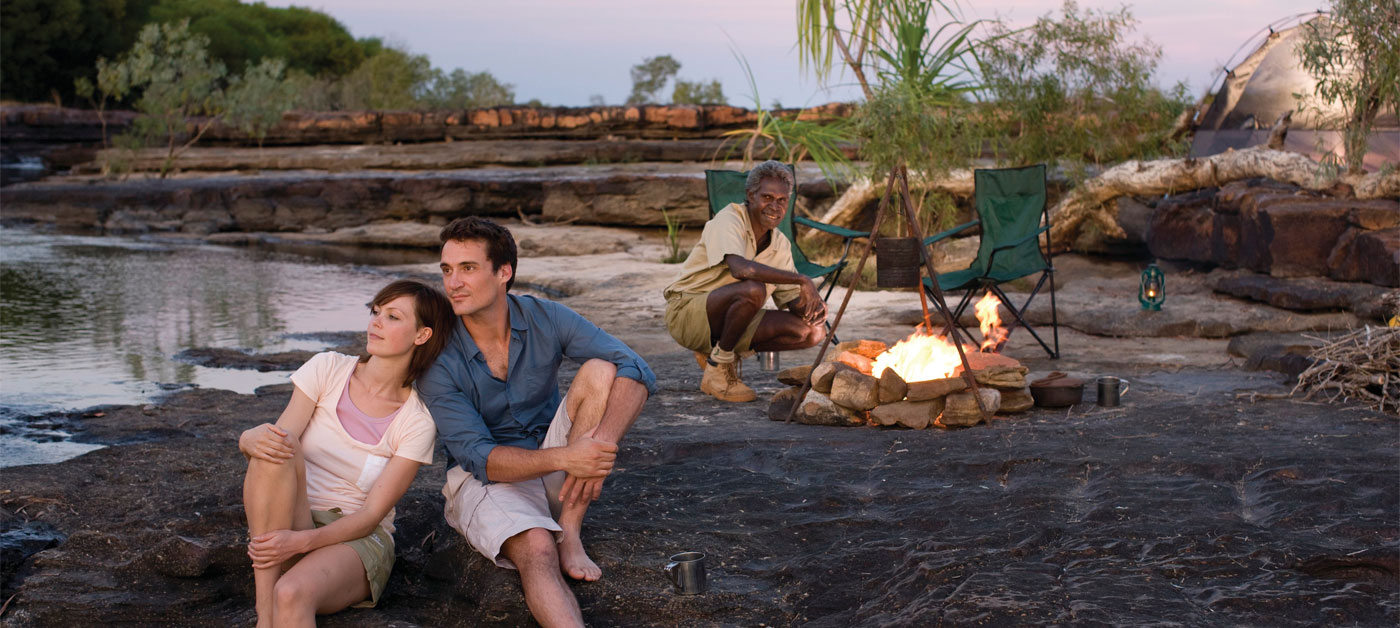 Quick look:
Day 1 Arrive Sydney - Sydney Harbor Cruise Like a Local
Day 2 Blue Mountains wildlife and scenery
Day 3 Fly to Adelaide connecting to Kangaroo Island Southern Ocean Lodge
Day 4 Explore wild and rugged Kangaroo Island
Day 5 Fly to Adelaide and stay for one night. Afternoon walking tour of city sights.
Day 6 Fly to Cairns and head up to the Rainforest and Silky Oaks.
Day 7 Explore the Rainforest with an Aboriginal Guide.
Day 8 Outer Great Barrier Reef Cruise and Snorkeling
Day 9 Depart Australia
Four Seasons Sydney | Southern Ocean Lodge | Mayfair Hotel Adelaide | Silky Oaks Rainforest Lodge
Tour Details: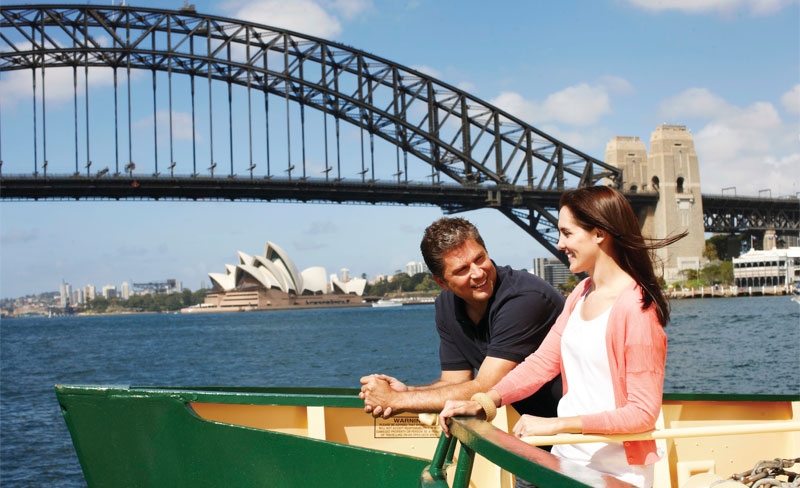 Day 1 - Sydney – Cruise Like a Local
Sydney is one of the world's most vibrant cities. The stunning Harbor and the famous Opera House along with the thriving restaurants and markets make it easy for visitors to fall in love with.
This afternoon enjoy a cruise on Sydney Harbor, a great way to blow away the cobwebs after a long journey. A unique 4 hour cruise on a 42 ft. motor yacht that includes lunch and a front row seat to view the Opera House, the Harbor Bridge and some of Sydney's prettiest Bays. Enjoy a kayak, or a swim or just sit back relax and take in the view.
Overnight Sydney - Four Seasons Hotel
---
Day 2 - Sydney - Blue Mountains World Heritage Region
Enjoy a full day tour into the heart of the unique Blue Mountains World Heritage Region to visit remote lookout locations, and learn of the history, flora and fauna of the region. The first stop this morning is at Featherdale Wildlife Park, where you can get up close and personal with koalas, kangaroos, wallabies and emus. Departing from Featherdale, commence the drive to the Blue Mountains via the highway. Visit one of a range of stunning outlooks of the Jamison Valley with beautiful vistas, where possible away from the crowds. Continue on to Eaglehawk Lookout for views of the famous Three Sisters and to learn of the legends behind this famous rock formation.
Traveling around the mountains, arrive at Evans Lookout where you will be issued with your lunch pack and instructions on the hiking track. This is one of the most scenic hikes available in the mountains taking you across a number of valleys and ridges as you hike from Evans Lookout to Govett's Leap, all the while looking out across Australia's Grand Canyon, The Grose Valley. The magnificent waterfalls drop a whopping 180 metres to the base of the cliff. The last stop is the delightful Mt Tomah Botanic Gardens to enjoy the sweeping views across Sydney before traveling back to your hotel.
Overnight Sydney - Four Seasons Hotel
---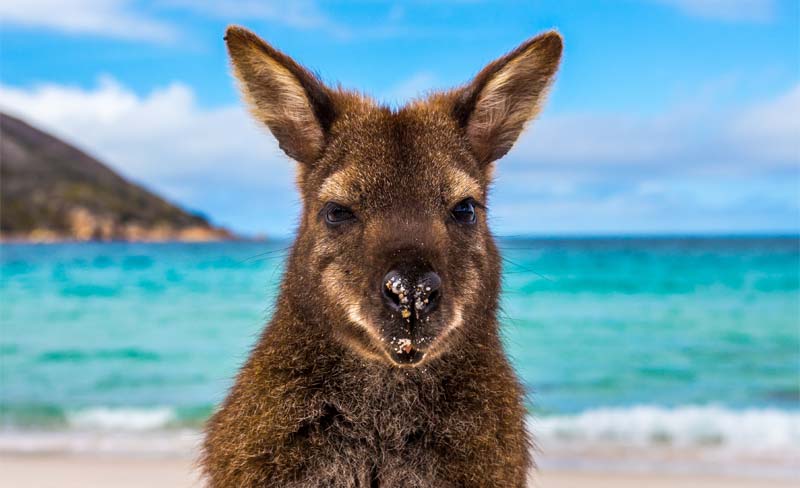 Day 3 - Kangaroo Island - Southern Ocean Lodge
Head to the airport for your flight to Adelaide with connecting flight on to Kangaroo Island. You will be met on arrival and transferred to your luxurious retreat, Southern Ocean Lodge.
Southern Ocean Lodge is Australia's first true luxury lodge, offering a unique and exclusive travel experience on Kangaroo Island in South Australia. Floating atop a secluded cliff on a rugged stretch of coast, the lodge commands peerless views of the wild Southern Ocean and pristine Kangaroo Island wilderness. Sensitive, intimate and sophisticated, Southern Ocean Lodge is a sanctuary of refined comfort and luxe, Kangaroo Island style.
Your stay includes all dining, open bar with premium wines and spirits, airport transfers and unique Kangaroo Island Experiences.
Twenty-one luxe suites commanding mesmerizing views of the Southern Ocean cantilever along the coast, creating the ultimate fusion between a breathtaking wilderness setting and unbridled creature comforts.
Interiors feature lavish king beds, sunken lounge, dramatic glass walled bathroom featuring Southern Spa amenities and outdoor terrace with occasional seating and daybed. Other features include; walk-in robe, complimentary room bar, twice daily housekeeping, optional climate control, heated floors, internet, music system (with MP3 input), safe and telephone. Televisions are in selected suites only.
Signature design elements such as sandblasted limestone floors and recycled spotted gum feature walls, as well as contemporary bespoke furnishings and artworks commissioned from local Kangaroo Island artisans harness the natural theatre of this dramatic landscape and environs.
Overnight Kangaroo Island - Southern Ocean Lodge
---
Day 4 - Kangaroo Island - Explore
Southern Ocean Lodge offers guests a complete and personal Kangaroo Island experience. A signature itinerary of selected guided island excursions is designed daily and included in the tariff, allowing guests to encounter abundant wildlife in a 'zoo without fences' and discover the Island's unique natural attractions, often with exclusive access and always with a touch of luxe.
The Southern Ocean Lodge guide introduces sea lions at Seal Bay, hosts an exploration of the vast wilderness of Flinders Chase National Park and leads a journey through coastal flora along the limestone cliff tops. A menu of Bespoke Experiences offers further exploration and excellent private charters are also available. Discover epicurean delights, visit local artists, or step off the beaten track to encounter wildlife in Australia's own Galapagos.
Overnight Kangaroo Island - Southern Ocean Lodge
---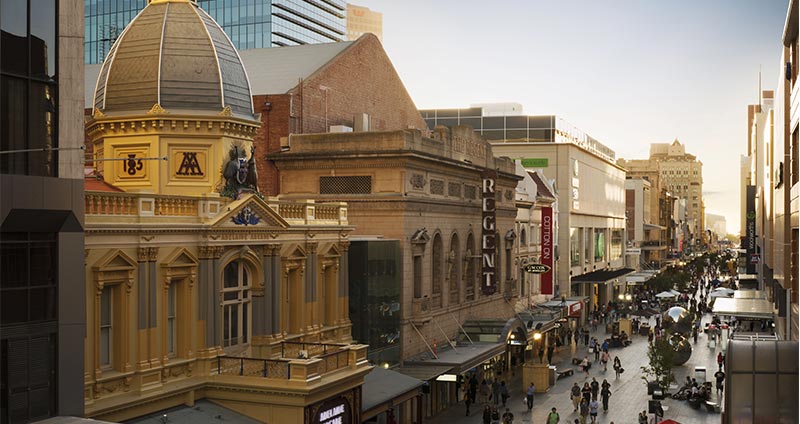 Day 5 - Adelaide - Insiders Walking Tour
Enjoy breakfast at the lodge before you head back to the airport for your short flight to Adelaide, home for the night.
This afternoon takes us on an insider's tour through Adelaide's Central Markets and features unknown local highlights such as hidden tunnels, visiting local potters and cheesery, with an education on wine to boot. Experience some local color at a little café along china towns, Gouger Street and explore some of the famous & interesting public buildings around Victoria Square, whilst learning about the heart of Adelaide & what makes it tick.
Overnight Adelaide - The Mayfair Hotel
---
Day 6 - Cairns - Silky Oaks Rainforest Lodge
Enjoy your flight to Cairns today, gateway to the Rainforest and Great Barrier Reef. On arrival you will be met and transferred to your luxury lodge in the Rainforest just over an hour north of Cairns.
Silky Oaks Lodge and Healing Waters Spa is located in a stunning riverside location adjoining one of the oldest living rainforests in the World Heritage Listed Daintree National Park and is an ideal base from which to explore Far North Queensland.
The renowned open sided Treehouse Restaurant offers fine dining amongst the rainforest and overlooking the beautiful Mossman River. Contemporary accommodations offer the custom designed Treehouse's for the ultimate in relaxation.
Overnight Mossman - Silky Oaks Rainforest Lodge and Spa
---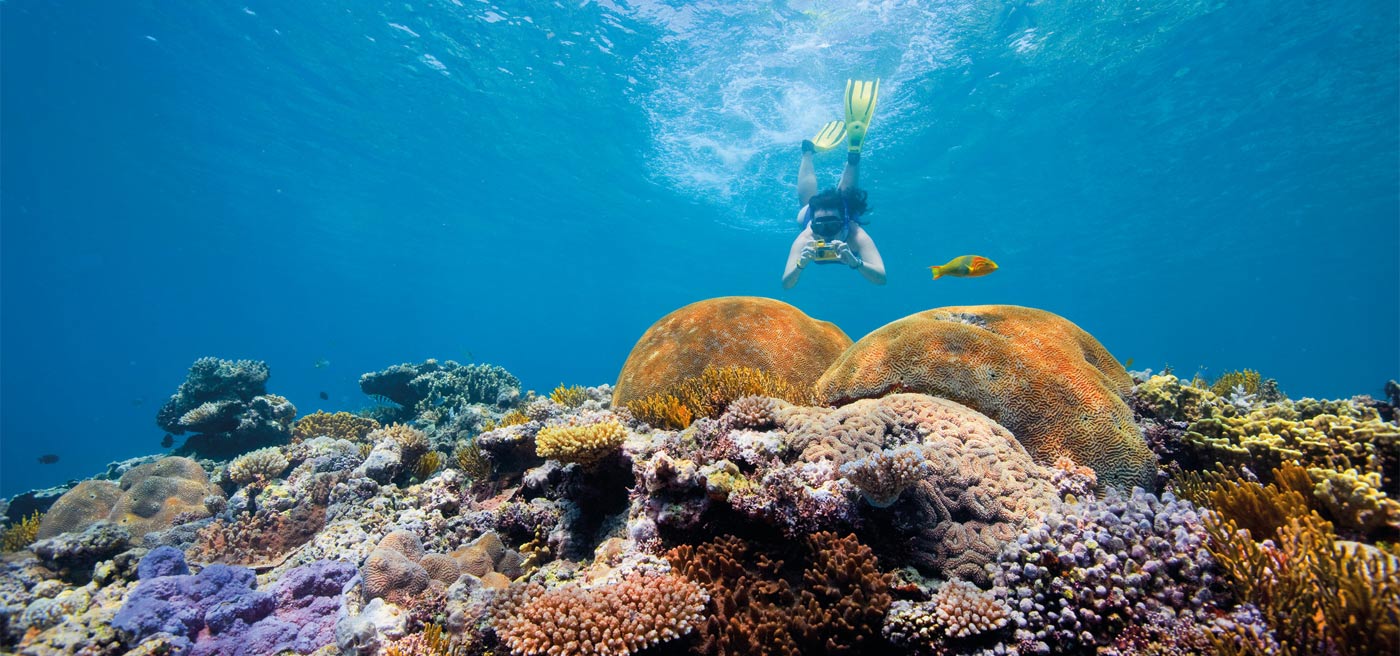 Day 7 - Great Barrier Reef - Snorkel or Dive
Enjoy a good breakfast at the Lodge before being picked up and transferred to the Marina at Port Douglas. Here you embark of your cruise to the Outer Great Barrier Reef.
For your experience of a lifetime, Quicksilver's wave piercing catamaran and friendly crew will take you to a reef at the very edge of Australia's Continental Shelf, to an underwater world that is dazzling kaleidoscope of color and brilliance.
Choose to dive, snorkel, or stay dry and explore the stunning reef from the comfort of a Quicksilver semi-sub, just one meter underwater. Watch the fish feeding from Quicksilver's unique underwater viewing platform and underwater observatory, or fly in a helicopter over the reef. Whichever way you choose, you'll bring home a lifetime of memories from this living natural wonder.
Quicksilver takes you to Agincourt Reef, at the very outer edge of the Barrier Reef. Here, special reefs known as 'ribbons' run parallel to the Continental Shelf. Adjacent to the Coral Sea trench, these ribbon reefs are recognized as the most pristine ecosystems in the reef's environment. Clear water provides the best possible underwater visibility, encourages rich coral growth and supports spectacular marine life. As the region's outer reef pioneer, we chose the best location available to show you nature's finest.
Entering the dramatic beauty of the Great Barrier Reef is an extraordinary experience. It's a day that engages all your senses, lifts your spirit and takes you into another realm. Sharing the wonder of the world's largest living entity, realizing its breathtaking color and majesty, seeing nature at its most perfect is an awakening and, quite simply, the memory of a lifetime. Come and experience nature's finest with Australia's best. At Agincourt ribbon reef, you'll feel as if you've embraced paradise.
---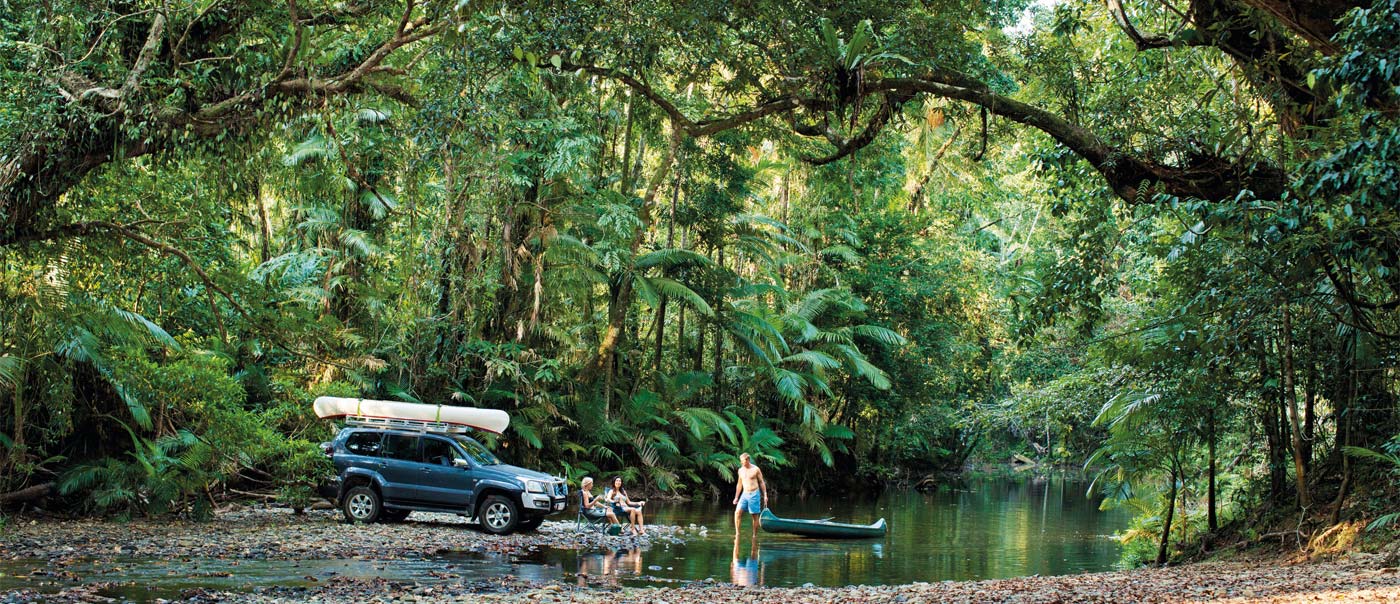 Day 8 - Rainforest - Explore at your leisure
As you already submerged in the Rainforest by staying at Silky Oaks, there are many ways on site to take it all in.
The Lodge is set in 80 acres of rainforest bordering the World Heritage Listed Daintree National Park and overlooking the beautiful Mossman River. Fine dining in an ancient rainforest, early morning yoga classes , indulging in the award winning Healing Waters Spa, lazy swims in the Billabong or enjoying the stunning forest and river vistas as you relax in a hammock are some of the many options available at the Lodge. Hiking trails into the Daintree with guidebook lead to numerous scenic picnic spots as well as gorgeous locations to swim in sparkling waters.
Alternatively we can suggest an array of fantastic day tours should you wish to prebook a tour on this day.
---
Day 9 - Return Home
An early start to the airport this morning to depart Cairns for your connecting flights home. Today your Australian adventure comes to and end.