Interested in this itinerary?
For pricing on a personalized itinerary please contact Journey South Travel here,
or request a personalized quote online here.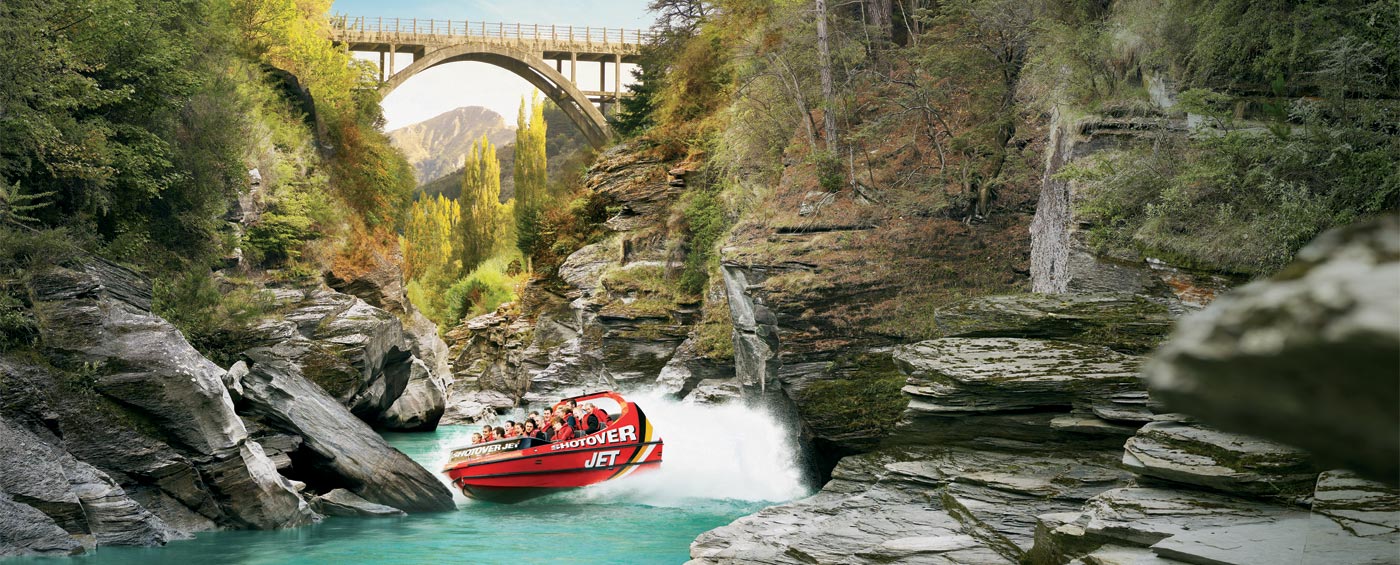 Quick look:
Day 1 Arrive Auckland, connect to Kerikeri Bay of Islands and collect rental car
Day 2 Bay of Islands, Waitangi treaty grounds and Hole in the Rock Cruise
Day 3 Coromandel Peninsula
Day 4 Coromandel Peninsula, kayaking at Cathedral Cove
Day 5 Rotorua, White Island Heli adventure
Day 6 Rotorua, Thermal Wonderland and Maori Cultural evening
Day 7 Nelson and the Abel Tasman National Park
Day 8 Abel Tasman National Park, kayak and walk
Day 9 Punakaiki, Pancake Rocks and Blowholes
Day 10 Fox Glacier and Heli hike
Day 11 Lake Moeraki Wilderness Lodge
Day 12 Lake Moeraki Wilderness Lodge
Day 13 Queenstown TSS Earnslaw Farm and BBQ dinner
Day 14 Queenstown Dart River Safari
Day 15 Return Home
Scenic Hotel Paihia | Puka Park | Black Swan Rotorua | Wairepo House | Punakaiki Resort Distinction Fox Glacier | Wilderness Lodge Lake Moeraki | Queenstown House
Tour Details:
Day 1 - Arrive Auckland – connecting flight to Bay of Islands
On arrival into Auckland transfer to the domestic terminal for the short flight to Kerikeri, gateway to the Bay of Islands.
On arrival collect your car from Avis and make your way to Paihia, approx. a 30-minute drive.  You have an intermediate car included fully inclusive with GPS.
Paihia is known as the jewel of the magnificent Bay Of Islands. Amazing beaches and a host of islands make this an aquatic playground.  From the wharf, you can arrange a trip to the outer islands, hook into a fishing expedition or catch ferry to Russell.
Overnight – Bay of Islands Scenic Hotel Paihia
---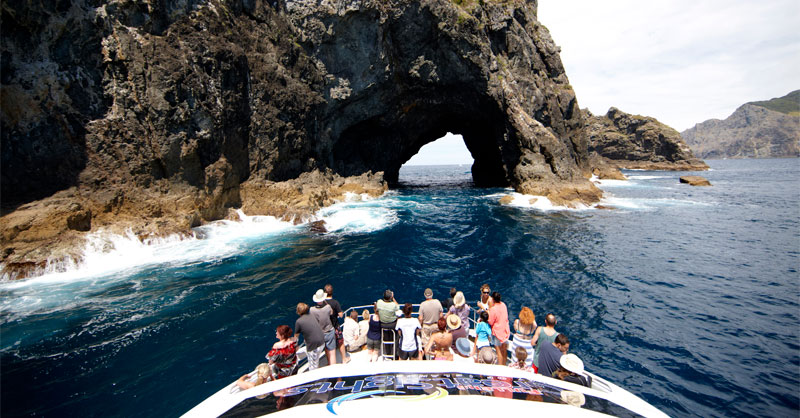 Day 2 - Waitangi Treaty Grounds and Hole in the Rock Cruise
Make your way over to the Waitangi Treat Ground this morning – you have admission a guided tour and a cultural performance included.
As you journey through the expansive grounds, with spectacular views over the Bay of Islands, you'll walk in the footsteps of the people who changed history. Discover the momentous events that shaped our nation at the state-of-the-art Museum of Waitangi. Let our Guides enhance your experience on an fascinating Guided Tour. Witness spellbinding cultural performances as you learn the meanings behind Māori protocol and culture. It's all waiting for you at New Zealand's most important historic site - Waitangi Treaty Grounds.
Enjoy lunch at a local café and then head to the Wharf for your afternoon cruise.
Enjoy the large outdoor viewing decks as you cruise past the inner islands of the Bay and Cape Brett Lighthouse, before arriving at the majestic Hole in the Rock hold your breath as the skipper navigates through the narrow space and admire the rock walls which soar above you. Take in the Grand Cathedral Cave. On the return journey meander through the inner islands keeping a look out for common and bottle-nose dolphins, whales and other marine life as your skipper gives an informative commentary.
Overnight – Bay of Islands Scenic Hotel, Paihia
---
Day 3 - Drive south to the Coromandel Peninsula
Enjoy the scenic drive south today to the Coromandel Peninsula. 
Renowned worldwide for its natural beauty - misty rainforests and pristine golden beaches, the Coromandel is blessed with hundreds of natural hideaways, making it an ideal place to slow down, relax and unwind. Dig your own hot spa pool in the sand at Hot Water Beach, explore the Coromandel Forest Park, or cruise the islands by boat.                
Overnight – Coromandel - Grand Mercure Puka Park Resort
---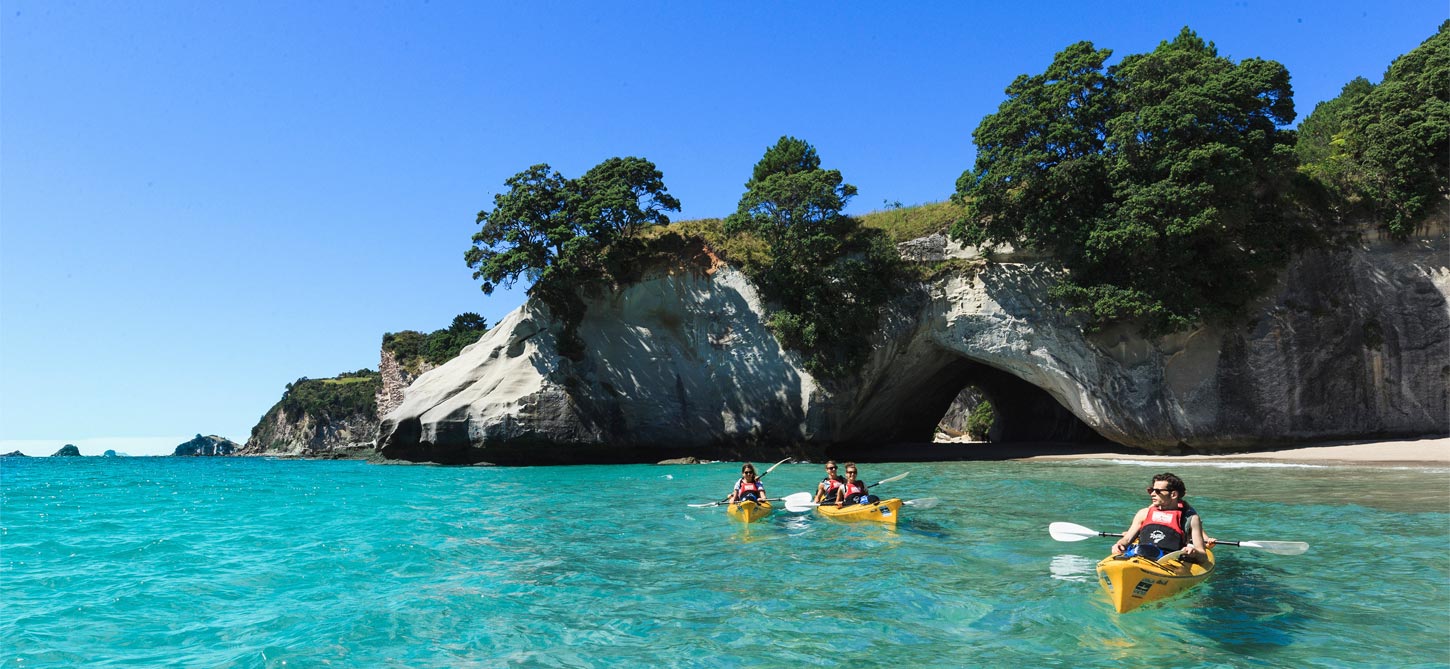 Day 4 - Kayaking at Cathedral Cove
The Te Whanganui-A-Hei Marine Reserve opens up a sea kayaking paradise full of beaches, islands and rock gardens that are just waiting to be explored. Paddle through sea caves, interact with the local marine life and discover the thrill of kayak sailing with the wind on your back. The tour offers great photo opportunities and is topped off with cappuccinos, hot chocolates and cookies at Cathedral Cove!        
Overnight – Coromandel - Grand Mercure Puka Park Resort
---
Day 5 - White Island
Drive South to Rotorua and check in at your hotel.  Make your way to the Volcanic Air base in Rotorua for your afternoon's adventure.
Fly to and land on New Zealand's only permanently active volcano White Island. Leaving the Rotorua city lake front we fly north past our northern lakes district before crossing the coast on track to White Island. Arriving overhead the volcano, enjoy aerial views of the active crater before landing on this lunar like surface. Here embark upon a leisurely guided tour of the island's crater floor to view active steam vents 'fumaroles', hot streams, vibrant sulfur formations and the steaming crater. This landscape is constantly changing as the activity forms new features and removes old ones. The Crater Lake changes in depth and temperature so that from one day to the next the landscape is different.
Part of our tour includes a walk through crumbling mining ruins to view the weathered remains of what was a working factory built in 1923 and abandoned in 1933. Tours on this privately owned volcano are conducted by your pilot / guide whose wealth of knowledge about the island's history and geology enhances the experience.
Return flights to and from the island takes in aerial views of the wider Bay of Plenty.
Overnight – Rotorua - The Black Swan Hotel
---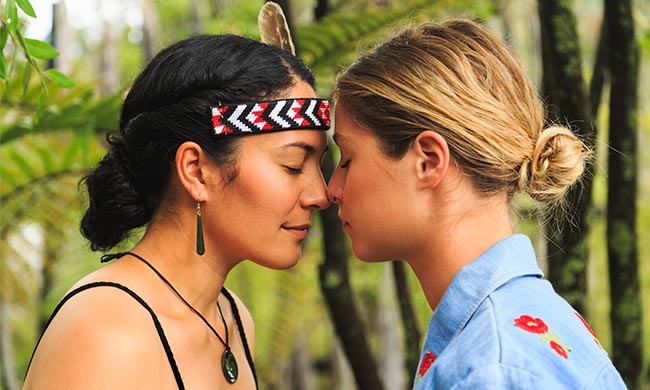 Day 6 - Rotorua Kayak and Culture
Today enjoy a guided kayak trip to the spectacular Manupirua Springs Hot Pools on Lake Rotoiti.  You will enjoy the paddle down the Ohau Channel and across Lake Rotoiti to this amazing spot only accessible by boat. Situated right on the lake edge, there is a range of hot pools of varying temperatures.  Paddling time is around one hour each way with time to relax and enjoy the hot pools.
This evening your tour to Tamaki Maori Village takes you on a cultural journey to the marae (Maori village), the life force of New Zealand's indigenous people. Imagination takes over as your guide instructs you on the protocol for visiting the marae. A chief is selected, a song is learned and the eerie cry of the welcome is heard before you enter the world of the proud warriors of the ancient Maori.
You will experience the Powhiri (Welcome Ceremony) before you enter the village (houses) and hear traditional Maori instruments and watch the daily activities of days gone by. In the wharenui (meeting house), a Rangiatea culture group offers a powerful display of haka song and dance. Then, as new friendships are forged, dine on a traditional hangi feast, where the food is cooked slowly beneath the ground in earth ovens.
Overnight – Rotorua - The Black Swan Hotel
---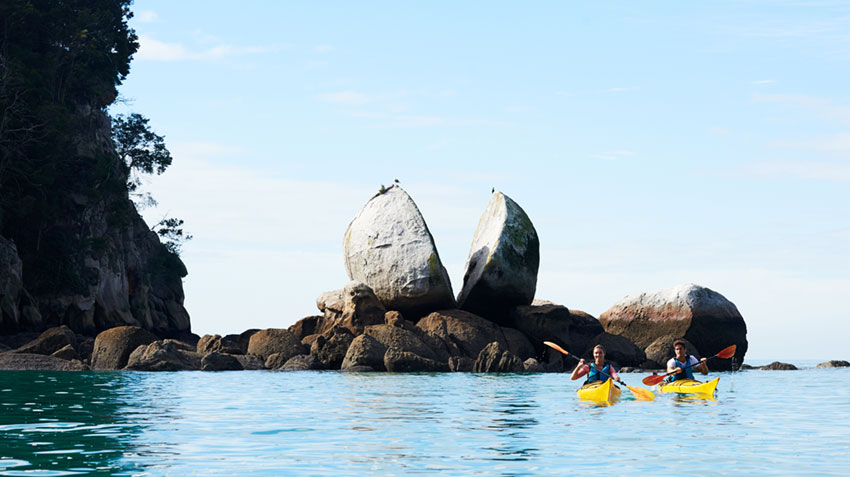 Day 7 - Abel Tasman National Park
Leaving your car at Rotorua airport, enjoy your flight to the South Island and Nelson. On arrival collect a new car and make the hours' drive to Motueka, home for the next two nights. You have an intermediate car included fully inclusive with GPS.
A coastal paradise that you can walk through or explore by cruise boat, sailing catamaran, water taxi or sea kayak. Visitors love the way the Abel Tasman National Park mixes physical exertion with beach life. Bursts of hiking or paddling are punctuated by sun bathing, swimming and sedate snorkeling.
Overnight – Abel Tasman National Park - Wairepo House
---
Day 8 - Beaches Bays and Kayak
Cruise from Kaiteriteri into the heart of Park at Torrent Bay to kayak some of the best territory on the coast. Your Guide will direct you to your unguided walk after lunch and Boat Hosts will meet you at your pick up point. If you are enjoying the kayaking, you have the option of taking a short walk during the lunch break, then continue in the kayaks to complete our Beaches, Bays and Seals kayaking trip.
Overnight – Abel Tasman National Park - Wairepo House
---
Day 9 - Punakaiki and The Pancake Rocks and Blowholes
Start your drive down south for Punakaiki.  This is a small community on the West Coast of the South Island, located between Westport and Greymouth. The community lies on the edge of the Paparoa National Park. The Pancake Rocks are a very popular tourist spot at Dolomite Point, South of the main village. The Pancake Rocks are a heavily eroded limestone area where the sea bursts though a number of vertical blowholes during high tides.
Overnight – Punakaiki - Punakaiki Resort
---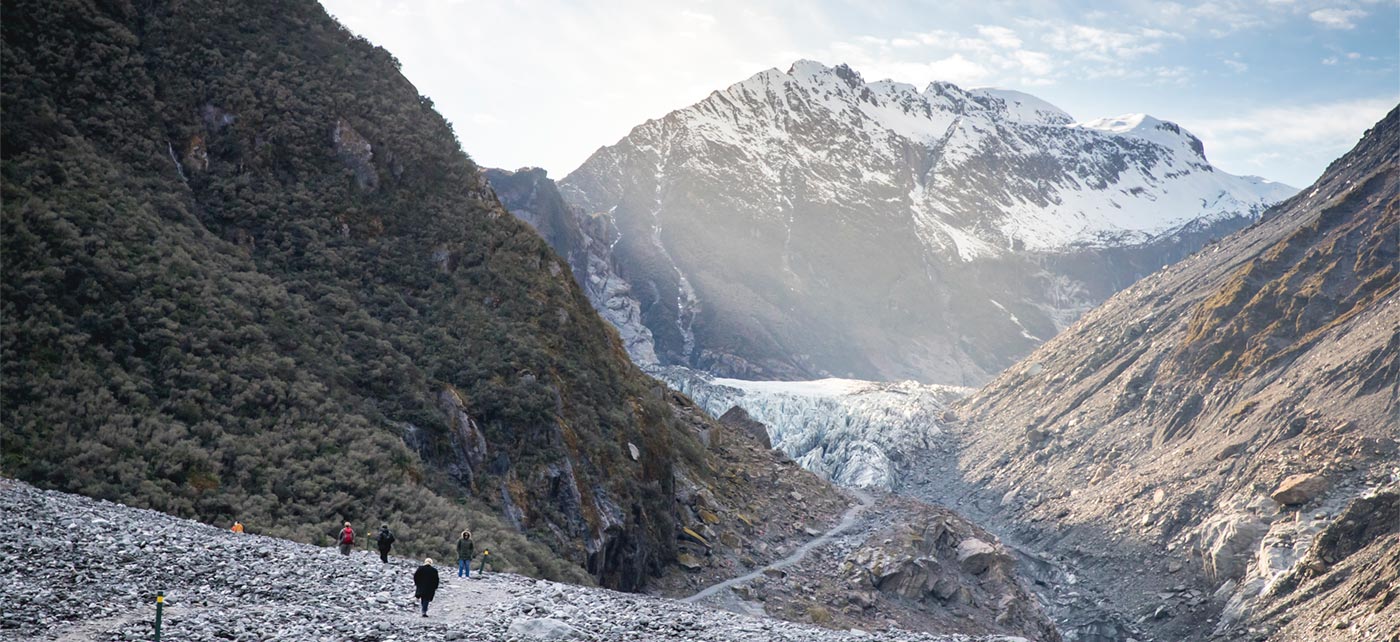 Day 10 - Fox Glacier on the rugged West Coast
Continue south to the glacier region on the West Coast.  At 13 kilometers long, Fox Glacier is the longest of the awe-inspiring New Zealand West Coast glaciers. This mighty moving river of ice falls 2,600 meters, or a little over 8,000ft, on its journey from the base of the Southern Alps to the West Coast.
Overnight – Fox Glacier - Distinction Fox Glacier Hotel
---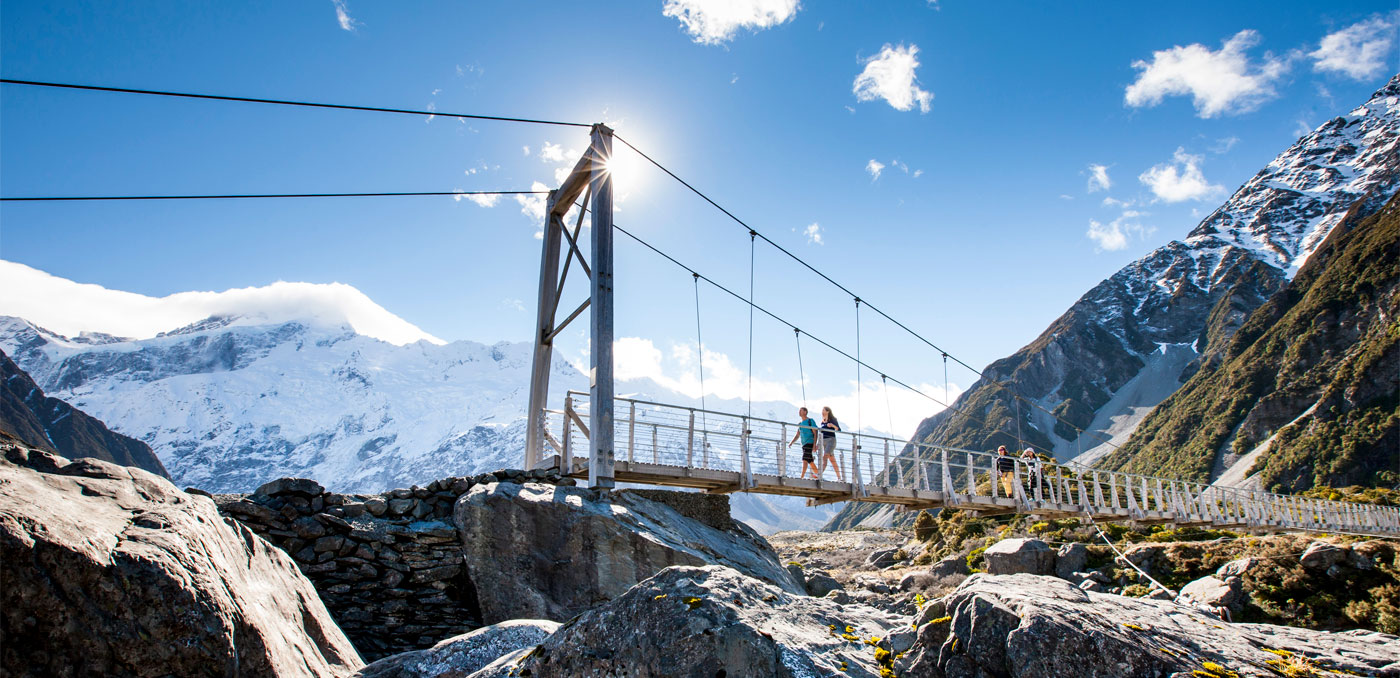 Day 11 - Scenic Heli flight over Fox Glacier and Mt Cook, New Zealand's tallest peak
Soar above Fox Village and head to the stunning Fox Glacier. Take in the majesty of the longest West Coast Glacier before landing in the snowfield at the top for the most stunning scenery and that perfect holiday photo. Then explore the West Face of Aoraki/Mt Cook before descending into the valleys and returning to Fox. *Includes a snow landing.
Enjoy the drive down to Lake Moeraki, in the heart of the South Westland World Heritage Area. Famous for its dramatic coastline, the sweeping curves of beaches, rugged cliff tops and spectacular glaciers - visitors can travel through an unspoiled natural environment that darts from the sea, over ancient sand dunes to lakes and forests, with the dramatic backdrop of a mountain chain dividing east from west. This is a part of the country so wild and relatively undisturbed, that the town of Haast was not linked by road to the rest of the West Coast until 1965.
The highlight of your next two days is your stay at the Wilderness Lodge.
Overnight – Lake Moeraki - Wilderness Lodge
---
Day 12 - Lake Moeraki Wilderness Lodge
The Wilderness Lodge experience combines high quality accommodation, superb food, gracious hospitality and exciting nature adventures. Experience wild New Zealand in comfort and style.
Few places on earth can match the stunning natural setting of Wilderness Lodge Lake Moeraki, surrounded by lakes, rivers, rainforest and sea coast in the heart of Te Wahipounamu, the southwest New Zealand World Heritage Area.  This is a paradise for nature lovers, active travelers and wilderness seekers.
Let naturalist guides bring the West Coast to life for you. Explore rainforest trails, hike spectacular sea coast & enjoy tranquil lake kayaking. Learn New Zealand's fascinating natural history and see penguins, seals & other wildlife.
Overnight – Lake Moeraki - Wilderness Lodge
---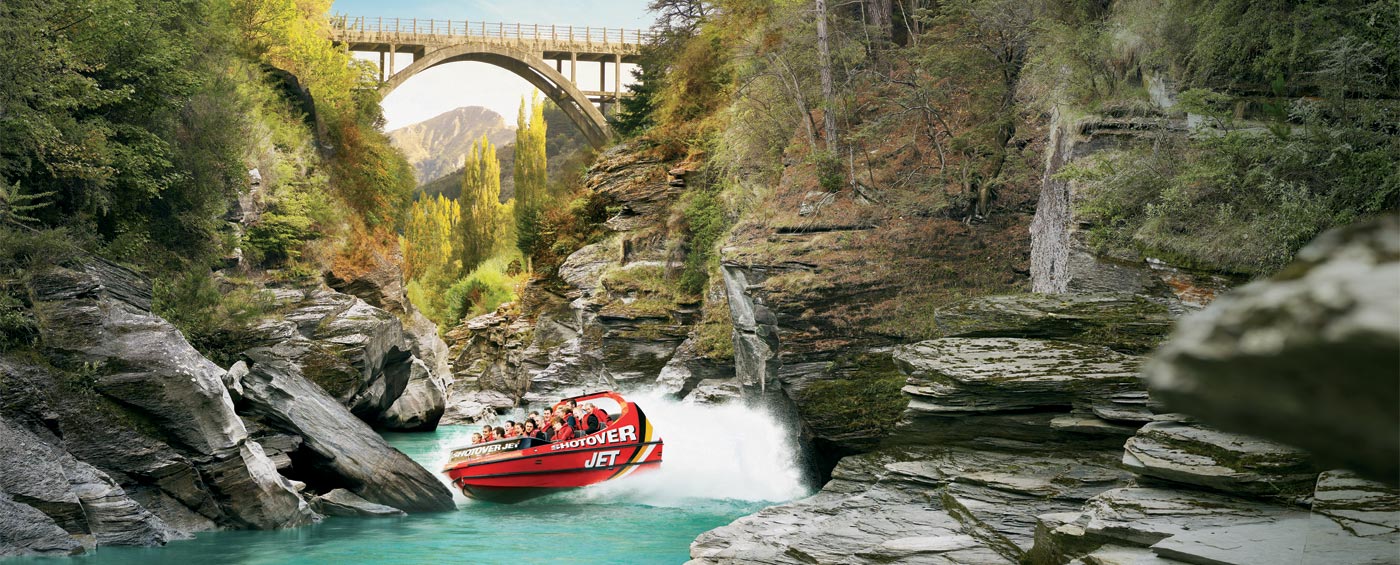 Day 13 - Queenstown, the Adventure Capital
Continue on to Queenstown, your last but definitely not least stop on your New Zealand adventure.
Queenstown sits on the shore of crystal clear Lake Wakatipu among dramatic alpine ranges; it's rumored that gold prospectors - captivated by the majestic beauty of the surrounding mountains and rivers - gave this now cosmopolitan town its name.
With a smörgåsbord of outdoor activities, Queenstown is the home of the ultimate adventure bucket list. There's skiing in the winter and activities such as sky diving, canyon swinging, jet boating, horse trekking and river rafting all year round.
Overnight – Queenstown House
---
Day 14 - Thrilling Shotover Jet and Adventure 4WD Safari      
Today you will experience one of the world's most exciting Jet boat rides. The Shotover Jet is the only company permitted to operate in the spectacular Shotover River Canyons. It's a thrilling & unique ride - skimming past rocky outcrops at close range, twisting and turning through the narrow canyons at breathtaking speeds, the major highlight being the full 360 degree spins.
This afternoon enjoy a real 4WD adventure exploring the gold mining history in splendid New Zealand high country. Skippers Canyon Road was hacked by hand into the sheer cliff sides of the Shotover River Valley, following the discovery of gold in the Queenstown area in 1862. We follow Skippers Road, with every hairpin bend, across the historic suspension bridge, opened in 1901, to the old gold mining township of Skippers. This tour offers spectacular mountain scenery, rugged canyons, gold panning to gain a taste of NZ's pioneer gold mining history, and the excitement of the 4WD in a safe environment.
Overnight – Queenstown House
---
Day 15 - Return Home
Head to the airport and return your car.  Today your New Zealand adventure ends and you return home with treasured memories.
If you're excited about some of the destinations and activities in this itinerary, you can get in touch with us here, or you can request a quote online here, and we'll get back to you with a personalized travel package, tailored to your requirements.
Itinerary and Activities are indicative only, to be used as a guide. Journey South Travel is not responsible for misprints or errors.