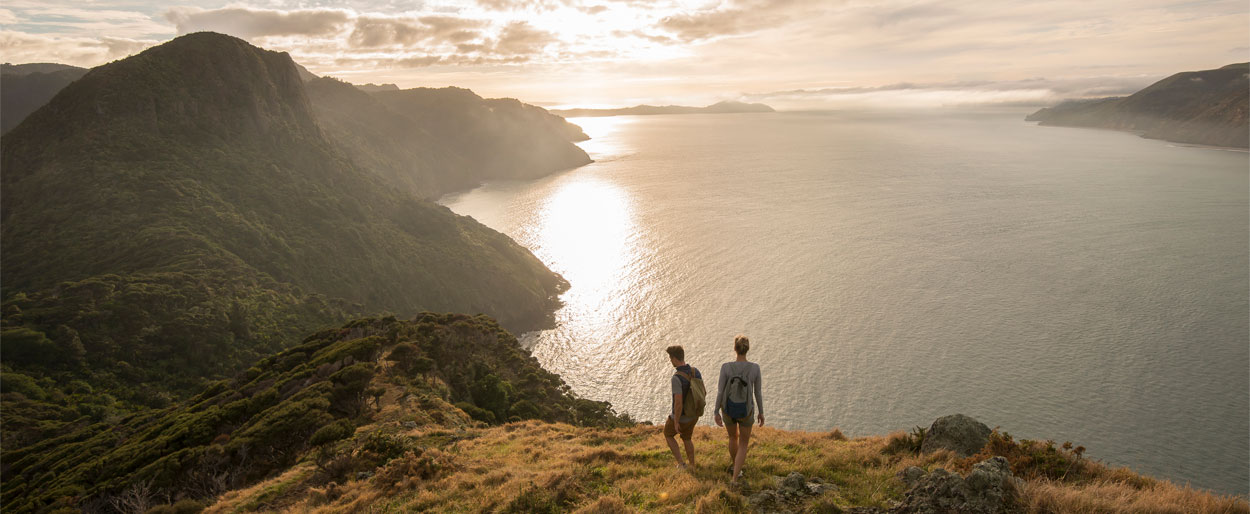 Quick look:
Day 1 Arrive Auckland, enjoy the rest of the day at your leisure
Day 2 Auckland Maori Luxury Tour
Day 3 Auckland to Rotorua via Hobbiton
Day 4 Geothermal Wonderland, Heritage and Cultural Performance
Day 5 Fly to Wellington and enjoy an afternoon taste of the Capitals Art scene
Day 6 Enjoy the City Highlights and Inspiration Tour
Day 7 Fly to Queenstown, enjoy the afternoon at leisure
Day 8 Milford Sound Nature cruise with optional return scenic flight
Day 9  Dart River Jetboat Safari
Day 10 Depart New Zealand
M Social Auckland | The Regent Rotorua | QT Museum Wellington | St Moritz Queenstown
Tour Details:
Day 1 - Arrive Auckland
Home to over 1.4 million people, Auckland is New Zealand's largest city and is recognized as having the largest concentration of Polynesian people in the world. Auckland's blend of a modern seaside city environment coupled with an island-studded gulf, nearby rain forest, black sand surf beaches and wine country offers a huge range of leisure activities.
Overnight - Auckland – M Social Hotel with continental breakfast included
---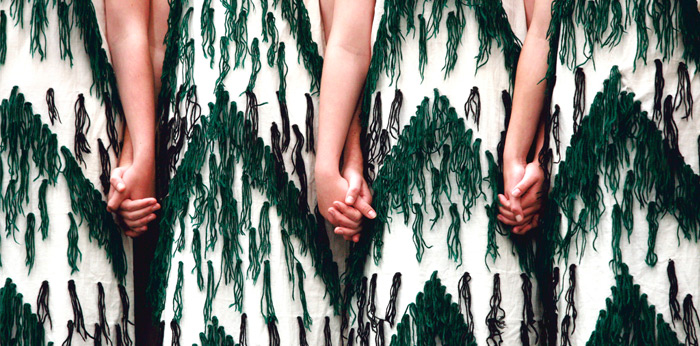 Day 2 - Auckland – Maori Luxury Tour
See the very best sights of Tamaki Makaurau (Auckland) and the wild West Coast with an indigenous guide. Explore some of Auckland's amazing volcanoes, historic Devonport and the Waitakere Ranges with its subtropical rain forest and black sand beaches, all through the eyes of an indigenous guide. Marvel at views of Maungawhau (Mount Eden) plus Takarunga (Mount Victoria) to see some of Auckland's ancient volcanoes. Learn about Maori culture, myths and legends as well as the ancestors who shaped this land. Visit Auckland and its stunning West Coast Waitakere Ranges. The tour includes a gourmet lunch and luxury transport.
Overnight - Auckland – M Social Hotel with continental breakfast included
---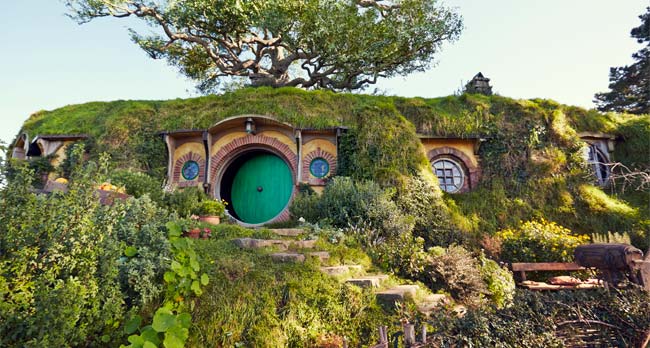 Day 3 - Auckland to Rotorua via Hobbiton
After breakfast and check out - take a magical journey through Middle-earth to the Hobbiton Movie Set from the Lord of the Rings Film trilogy. Travel south from Auckland over the Bombay Hills to the rich farmland of the Waikato region. You travel through the heritage town of Cambridge where tree-lined streets add to the English-style atmosphere. From here, your journey takes you through undulating green hills reminding you that you are approaching Hobbiton Shire. On arrival at Shire's Rest you embark on your Hobbiton movie set tour. This location is the largest "green set" in the world and the only place where you get an emotional response with a movie set in a natural setting.  Following your tour join the transfer, for the rest of your journey to Rotorua.
Overnight - Rotorua – the Regent of Rotorua
---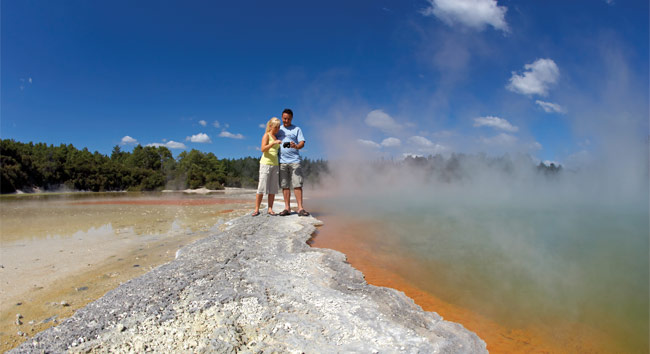 Day 4 - Rotorua – Geothermal Wonderland and a Cultural Evening
Rotorua is one of the best-known geothermal areas in the world.  It was developed as a spa in the early 1900's and has retained many modern attractions, making this one of the main tourism centers in the North Island. This city sits on the Volcanic Plateau, has one of the world's most lively fields of geothermal activity. Skyrocketing geysers, hot springs and boiling mud pools all tell you that this place sits squarely on the Pacific Rim of Fire. Rotorua is also the ancestral home of the Te Arawa  people who settled here more than 600 years ago and their presence offers the visitor numerous cultural experiences.
Enjoy a half day tour with Nature Connections this morning. With close up views of the spectacular geothermal activity, wonder in awe at the amazing diversity of geothermal features and the stunning volcanic landscape's of the Rotorua region. See NZ's largest boiling mud lake, Lady Knox Geyser erupting daily at 10.15am to heights of 20 meters, colorful volcanic craters of every tint and hue, hot streams, boiling hot springs, hissing fumeroles, vividly colored silica terraces, steaming cliffs, hot crater lakes, unique thermally adapted plants, native rainforest and bird life. 
This evening your tour to Tamaki Maori Village takes you on a cultural journey to the marae (Maori village), the life force of New Zealand's indigenous people. Imagination takes over as your guide instructs you on the protocol for visiting the marae. A chief is selected, a song is learned and the eerie cry of the welcome is heard before you enter the world of the proud warriors of the ancient Maori.
You will experience the Powhiri (Welcome Ceremony) before you enter the village
and hear traditional Maori instruments and watch the daily activities of days gone by. In the wharenui (meeting house), a Rangiatea culture group offers a powerful display of haka song and dance. Then, as new friendships are forged, dine on a traditional hangi feast, where the food is cooked slowly beneath the ground in earth ovens.    
Overnight - Rotorua – the Regent of Rotorua
---
Day 5 - Wellington
A short flight from Rotorua brings you to Wellington.
Wellington, known as "The Coolest Little Capital" nestles compactly on the harbour edge, encircled by steeply rising hills. The nation's capital is a flourishing center of arts and culture, including a thriving film industry.
This afternoon Experience Wellington's vibrant, eclectic art and architecture, you will spend a day immersed in the creative worlds of art and architecture and see New Zealand's artists at work. We also visit Wellington's intriguing early suburbs, including a visit to Old St Paul's cathedral, a remarkable timber structure. Explore the art collection at some of New Zealand's leading galleries, and learn about our rich mix of Maori, Pacific, and European history. Browse for unique gifts from leading Pacific Rim artists.
Overnight – Wellington - QT Museum Hotel
---

Day 6 - Wellington
Today enjoy an unforgettable and inspirational journey around Wellington's dramatic highlights. From unearthly south coast to the Beehive. Travel around the earthquake-scarred South Coast to see the harbour entrance and the distant ranges of the South Island, overlooked by coastal houses perched on the steep, rocky hills this dramatic coastline is stunning.
Enjoy a morning or afternoon tea at one of the coastal cafés before discovering the panoramic views of the harbour from the top of Mount Victoria. Ride Wellington's iconic cable car, at the top enjoy more magnificent views of the city and harbour. Explore the Botanic Gardens. Enjoy a tour at the magnificent Parliament Buildings and the famous Beehive and see the gorgeous, timber-built Old St Paul's Cathedral. Visit the national museum of Te Papa and experience the extraordinary mix of Maori and European history. You will savor a delicious lunch at one of the excellent local cafés and there is also time to shop for that unique NZ souvenir at some of Wellington's boutique retail outlets.
Overnight – Wellington - QT Museum Hotel
---
Day 7 - Queenstown
A scenic flight south to Queenstown, the perfect place to finish your journey. Enjoy the afternoon at leisure – enjoy lunch at a waterfront pub, take the Gondola up Bobs Peak for amazing panoramic views or be daring and try a bungee jump off Kawarau Bridge.
Queenstown sits on the shore of crystal clear Lake Wakatipu among dramatic alpine ranges; it's rumored that gold prospectors - captivated by the majestic beauty of the surrounding mountains and rivers - gave this now cosmopolitan town its name.
With a smörgåsbord of outdoor activities, Queenstown is the home of the ultimate adventure bucket list. There's skiing in the winter and activities such as sky diving, canyon swinging, jet boating, horse trekking and river rafting all year round.
Overnight – Queenstown – St Moritz Hotel
---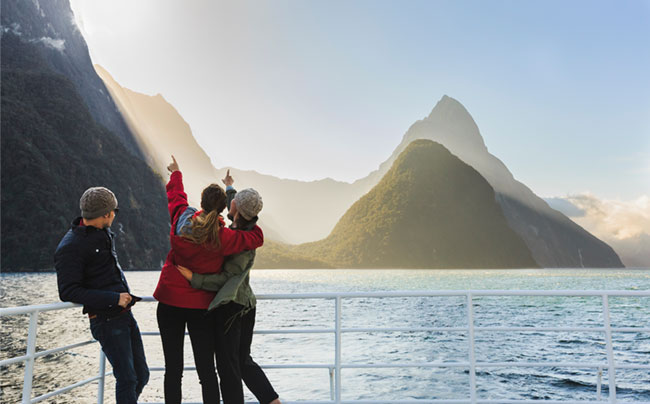 Day 8 - Milford Sound
Today you will board your Real Journeys luxury glass-roofed coach in Queenstown and enjoy a trip along the shores of Lake Wakatipu and through the rolling countryside to Te Anau. After a morning tea break in Te Anau continue along the spectacular Milford Road.
On reaching Milford Sound, board the Milford Mariner for a relaxing cruise of Milford Sound. The cruise provides excellent viewing opportunities and plenty of time is available to enjoy waterfalls, rainforest, mountains and wildlife.
Following your cruise, re-board the coach for the return journey to Queenstown.
An optional extra might be to take a scenic flight back to Queenstown, not only do you experience magical views over the Southern Alps but also you arrive back in Queenstown in good time to freshen up and head out for dinner at a local restaurant.
Overnight – Queenstown – St Moritz Hotel
---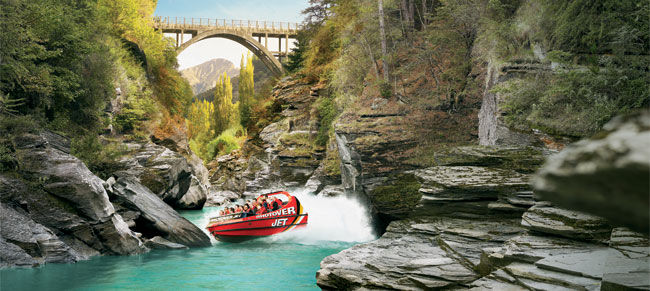 Day 9 - Queenstown Dart River Safari
The Wilderness Safari takes you on a spectacular 1.5 hour Jet Boat journey through the Dart's ever-changing braided river system, where you'll be thrilled by our Jet Boat's capabilities including jet spins. Also includes an easy guided 30 - 40 minute walk through the 'Heritage Trail' at Paradise. You'll also journey by 4WD coach via a scenic back-road route and stopping to view scenery that has formed the epic backdrop for many international films, including The Lord of the Rings.
Enjoy your last evening in Queenstown at your leisure.
Overnight – Queenstown – St Moritz Hotel
---
Day 10 - Return Home
 Make your way back to the airport today for your connecting flights home.