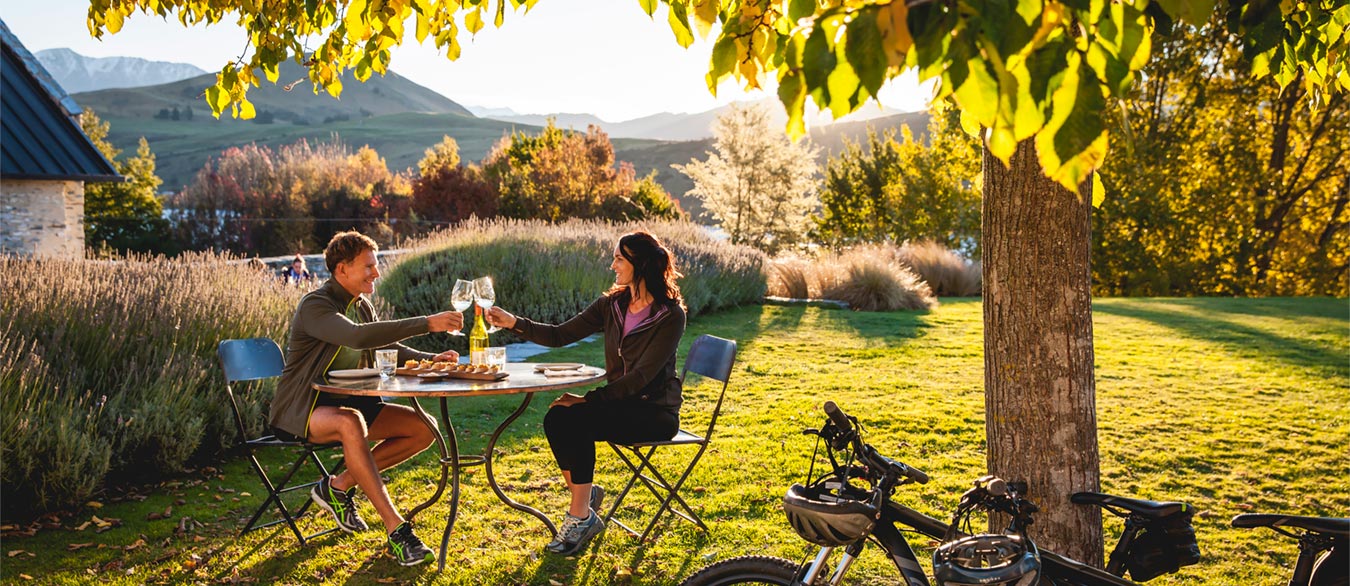 Quick look:
Day 1 Arrive Auckland, afternoon small group Auckland Highlights
Day 2 Waiheke Island Wine Tasting small group tour
Day 3 Fly to Napier Afternoon Art Deco tour in vintage car
Day 4 Enjoy the world's first Progressive Winery Dinner
Day 5 Fly to Blenheim, enjoy afternoon at leisure
Day 6 Full day Marlborough Icons with Seafood Odyssey Cruise
Day 7 Fly to Queenstown, enjoy afternoon at leisure
Day 8 Doubtful Sound Wilderness Cruise
Day 9 Boutique Wine Tour including lunch and all tastings
Day 10 Depart New Zealand
Hotel Debrett Auckland | Masonic Hotel Napier | Peppertree Blenheim | Browns Boutique Queenstown
Tour Details:
Day 1         Auckland – Highlights
See the highlights of Auckland city with its 48 volcanoes and the marine village of Devonport on Auckland's North Shore on a small group tour with TIME Unlimited Tours, winner of multiple global awards. Be amazed by spectacular views of both the Pacific Ocean and the Tasman Sea, dramatic views of several volcanoes and the marine village of Devonport. On these Auckland Tours you will see why Auckland is known as one of the most beautiful cities and regions in the world!
Overnight Auckland – Hotel Debrett breakfast included
---
Day 2         Waiheke Island – Essence of Waiheke Wine Tour
Take the scenic ferry over to Waiheke Island – here your guide will meet you for your wonderful day exploring the Island.
On the way, stunning scenery is around every corner, and you will be entertained by your guide's commentary on the history, geography, culture, people and produce of Waiheke. The tour includes a two-hour lunch stop at a village or beach-side café, or, for a memorable gourmet experience, at one of our top vineyard restaurants. Lunch is an additional cost and it is advisable that we reserve a table for you at the time you confirm your booking.
After lunch you will be returned to the ferry back to Auckland.
Overnight Auckland – Hotel Debrett breakfast included
---
Day 3        Napier – Art Deco
Head to the airport for your flight to Napier, located in Hawkes Bay. Napier, the city by the sea, is renowned for its 1930s Art Deco architecture, stately Norfolk pines, surrounding wineries and fresh local produce. Supported by a Mediterranean climate and over 2,200 hours of sunshine a year this popular year-round destination boasts a vibrant cafe culture amongst the splendor of the Art Deco buildings.
You will be met by your driver, in Art Deco costume, who will provide a fascinating commentary as you are driven in style, through Napier and surrounding areas.  You will learn about the earthquake that destroyed the city, hear stories of the people that led the rebuild and discover the Art Deco style.  En route, you will stop in Ahuriri and visit one of the most photographed buildings in New Zealand, the National Tobacco Company building.  You will then step back in time as you drive through the residential suburb of Marewa, meaning gift from the sea' in Maori.  This suburb was built entirely on land that rose from the sea in the 1931 earthquake and is filled with 1930s style homes.
Overnight Napier – Art Deco Masonic Hotel
---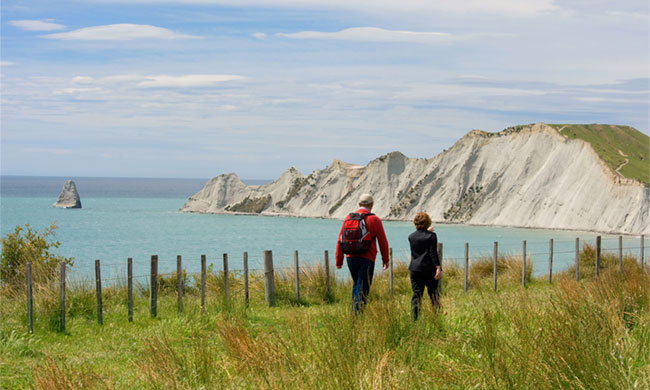 Day 4         Hawkes Bay – Twilight Odyssey, the world's first progressive winery dinner
Take a scenic drive through the vineyards as you learn about the region and its wines. Enjoy a full interactive wine tasting alongside gourmet platters at Vidal Estate or Elephant Hill. Take in the breathtaking panoramic views from Te Mata Peak while enjoying a glass of bubbles as the sun sets from 399 meters above sea level (overlooking the glimmering lights of the Twin Cities in winter). Proceed to Craggy Range or Elephant Hill (The Old Church or Peak House on Sundays) for the main course accompanied by a glass of wine. Finish the evening at the country's oldest and grandest winery the Mission Estate for dessert, dessert wine, and your choice of tea or coffee.
Overnight Napier – Art Deco Masonic Hotel
---
Day 5         Marlborough – Wine region
Enjoy the short flights across the Tasman to the South Island. Blenheim is situated in the Marlborough region of New Zealand on the northeast corner of the South Island.  For centuries it has offered safe harbour to travelers sailing to the spectacular South Island: first the Maori traders and war parties; then explorers like Captain James Cook and Dumont d'Urville; discover its thriving wine industry, the Marlborough Sounds, gourmet foods and adventure activities.
Enjoy your stay at The Peppertree, a gracious Edwardian Villa surrounded by 10 acres of farmland, vineyard, olive grove and gardens, nestled quietly amid the world famous Marlborough wine region.
Overnight Marlborough – The Peppertree
---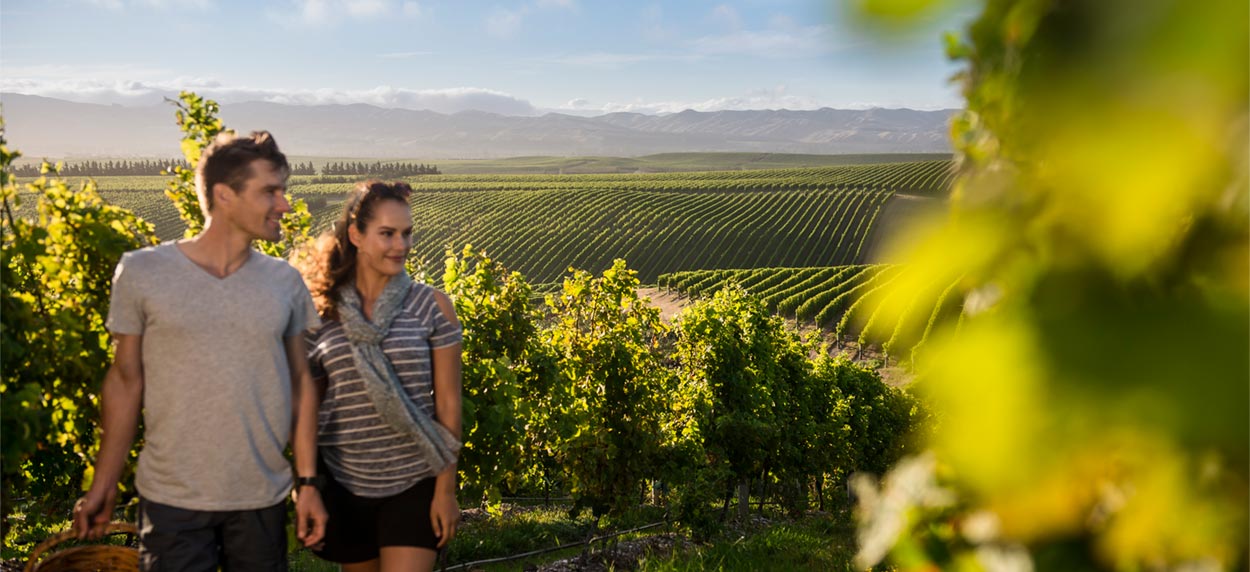 Day 6         Marlborough – full day Marlborough Icons with Seafood Odyssey Cruise
Today enjoy the icons of Marlborough in one day with a tour through the famous Marlborough wine region and the majestic Marlborough Sounds. You will enjoy the perfect combo tour through both areas on the Marlborough Icons Tour. Your morning tour starts in the heart of the Marlborough wine region with two fine wine experiences including Cloudy Bay winery before heading through for lunch (own expense) on the waterfront in the Marlborough Sounds. This afternoon you will enjoy an extraordinary Seafood Cruise in the Marlborough Sounds. You will learn about seafood farming, take in the stunning scenery and enjoy fresh local seafood with a glass of award winning Marlborough Sauvignon Blanc.
Overnight Marlborough – The Peppertree
---
Day 7         Queenstown – Adventure Capital
Queenstown sits on the shore of crystal clear Lake Wakatipu among dramatic alpine ranges; it's rumored that gold prospectors - captivated by the majestic beauty of the surrounding mountains and rivers - gave this now cosmopolitan town its name.
With a smörgåsbord of outdoor activities, Queenstown is the home of the ultimate adventure bucket list. There's skiing in the winter and activities such as sky diving, canyon swinging, jet boating, horse trekking and river rafting all year round.
Enjoy the afternoon at leisure – enjoy lunch at a waterfront pub, take the Gondola up Bobs Peak for amazing panoramic views or be daring and try a bungee jump off Kawarau Bridge.
Overnight – Browns Boutique Hotel
---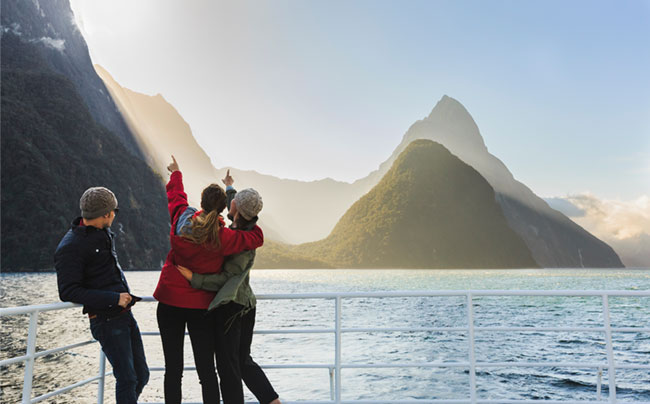 Day 8         Doubtful Sound – Wilderness Cruise
Travel by coach and follow the shores of Lake Wakatipu and then through the countryside to Pearl Harbour, Manapouri. Board a Real Journeys vessel and cruise across picturesque Lake Manapouri to West Arm before traveling by coach through dense rainforest across Wilmot Pass. There are opportunities along the way to examine the plant life and view the spectacular scenery.
Once at Deep Cove, board the catamaran for your three-hour cruise of beautiful Doubtful Sound. On board there are excellent viewing of waterfalls, rainforest and mountains. Of particular interest, if sighted, are fur seals basking on the rocks or a resident pod of bottle-nose dolphins. On the return journey, the vessels engines are turned off and you are treated to the "Sound of Silence".
At the end of your day you are returned to your hotel in Queenstown.
Overnight – Browns Boutique Hotel
---
Day 9 Queenstown – Boutique Wine Tour
Enjoy your afternoon amongst the boutique vineyards and superb scenery of the Central Otago Wine region. You will get to taste wines at four premium vineyards over two contrasting wine regions. You will learn about the wine and pioneering history and visit the historic precinct of Old Cromwell. You will bathe in the amazing scenery and learn about the gold history of this diverse region. Your tour today includes a delightful platter lunch as well as a glass of wine with your lunch.
Overnight – Browns Boutique Hotel
---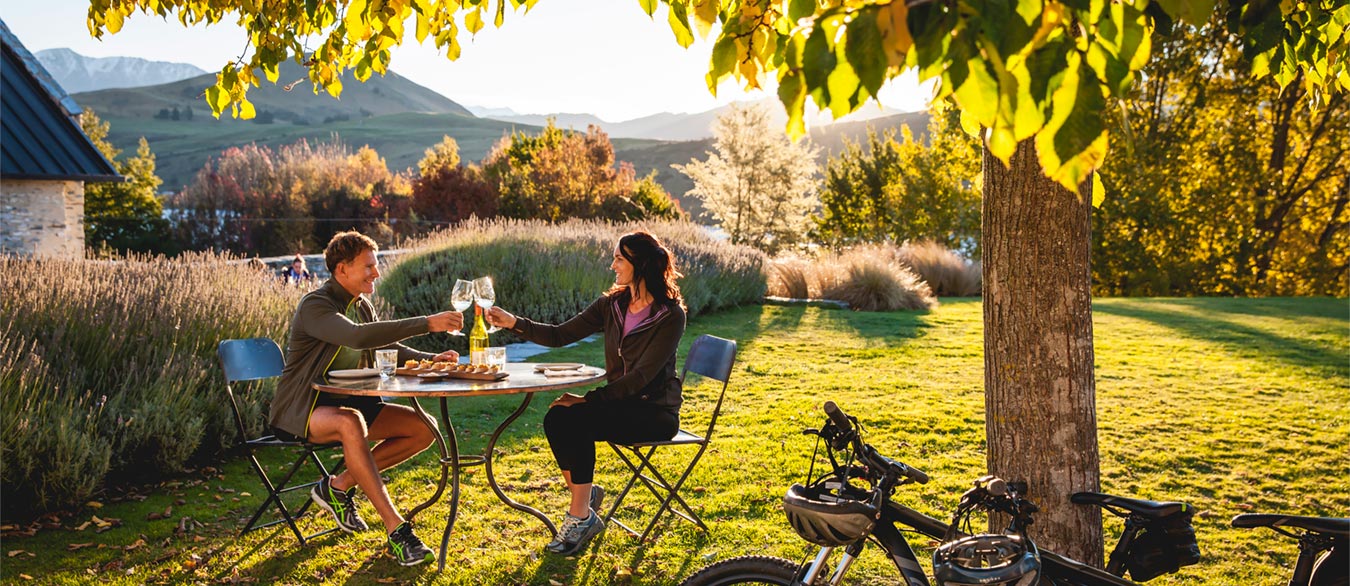 ---
Day 10 - Return Home
 Make your way back to the airport today for your connecting flights home.